Maria Kotzakoliou, March 19, 2020
Through March and the flowers have a field day. I do not believe that there is man who does not love them, despite allergies that occasionally create.
But spring is !!!
Flowers to express feelings of love, support, congratulations, sympathy or just to give color to your space and feel nice.
Flowers, therefore, the flower production and florists are the ones who felt the crisis of epidemic earlier than everyone.
Such production, so imports, so prepare for Easter, May Day, Mother's Day, weddings and christenings are driven in the bin. Just like that.
You can not keep for a long time the flowers and now there is nobody to buy them. Fear, the imprisonment, the agony health leave no luxuries … by many.
Talking with Mr. Thanasis Kelmager (Thanos Kelmayer), producer of floricultural products, President of the Agricultural Cooperative florist Athens and President of the Board Central Anthagoras Athens , enabled me to form a picture of what now facing the industry. And the description was not the most vivid colors, as the colors of the flowers.
The industry, like many others, is faced with huge financial disaster. Closed stores, unsold products, fields full of flowers that will fade away, running costs.
Nevertheless, I spoke with an optimistic man, who tries to galvanize his colleagues and to give color to the lives of others.
Rather than remain unsold products and brought the bucket, was distributed to departments and agencies of Athens.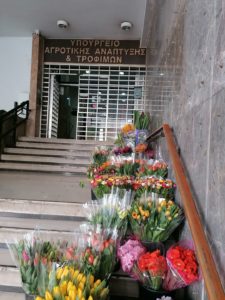 Flowers at the entrance of the Ministry of Agriculture to give color to the depths square and perhaps a move to remind the industry and its problems to Mr. Voridis, in my view at Evangelismos Hospital for animation of doctors and nurses, a police station, a nursing home to be lost in the color look older. Similar actions will be done at other institutions and supermarkets, to enhance workers' psychology. Who does not rejoice when the offer ;; flowers !!!
Here are photos with beautiful colors and flowers !!!
And no, it is from Holland. It is one property in Menidi!
I thank Mr. Thanasis Kelmager for placing photos.